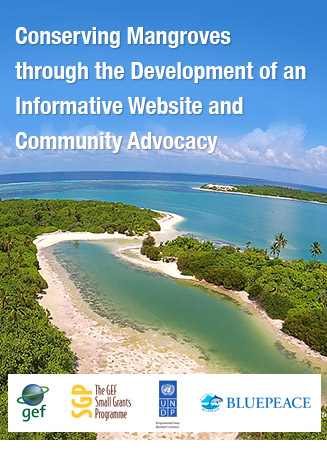 News, Reports and Articles
Read environment news, articles, research and reports. If you like your environment concern to be published send it to us.
Bluepeace Campaigns
The sea-birds of Maldives is a unique element of our ecosystem. They have been used as an accurate fish shoal...
Activities & Events
Bluepeace, with active participation from our members carries out different activities to achieve our common goals.
Environmental Information
There are numerous factors which contribute towards maintaining a balanced and sustainable environment.
Laws and Treaties
Since 1993, our environmental laws have contained a number of general themes. Dominant among these is the notion of protection and preservation...
Some of our campaigns: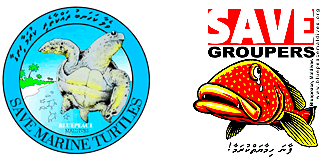 Bluepeace Calls for Creation of Nature Reserves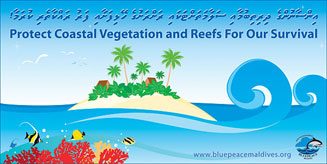 Bluepeace has called for the creation of nature reserves to offset increasing environmental damage caused by rising industrial activity... read more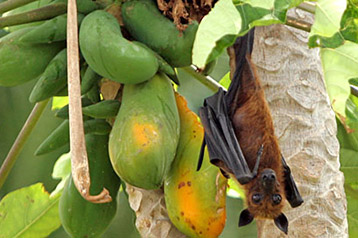 Endangered Maldives
Fruit Bat
Two species of megabats had been recorded in the Maldives, namely Pteropus hypomelanus maris and Pteropus giganteus ariel. Although 16 subspecies of fruit bat has been documented and common world wide, the subspecies Pteropus hypomelanus maris of the Maldives is considered endangered due to excessive culling and limited...
read more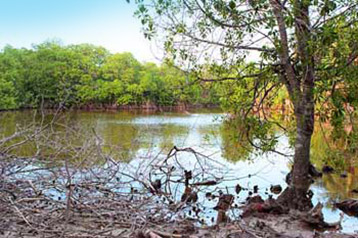 Atoll Mangroves Absorbed Lethal Power of Asian Tsunami
Mangroves in the Maldives are normally found in depressions of islets locally known as Kulhi. Some species of mangroves also grow along island lagoons. Mangrove areas are highly productive ecosystem contributing to the food chains of atoll islands. They are also important to the atoll ecosystems, as they filter out silt, nutrients and sand that would otherwise go out to the house reef around the islands, suffocate corals and encourage algal growth... read more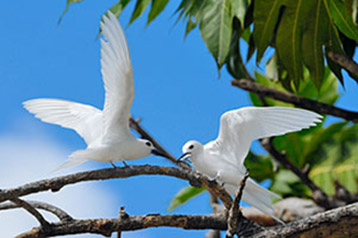 White Tern, the Symbol of
Addu Atoll
The White Tern (Gygis alba) locally know as Dhondheeni, sometimes called as Kandhuvalu dhooni is a small seabird traditionally only confined to the Addu Atoll, the southern uttermost atoll in the Maldives. However, the White Tern is commonly found across the tropical seas of the world and in the Indian Ocean... read more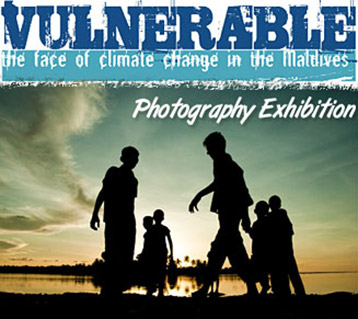 CLIMATE CHANGE PUSHES MALDIVES INTO UNCHARTED WATERS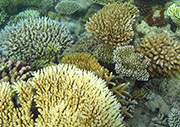 In a new United Nations' Intergovernmental Panel on Climate Change (IPCC) report titled, the "Working Group II Contribution to the Fifth Assessment Report" released on 24 March 2014, like its past reports, scientists predict apocalyptic consequences unless the world.... read more
FISH WASTE: POTENTIAL REVENUE DUMPED INTO THE SEA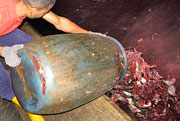 Every day except for Friday, the fish market in Male', the capital of the Maldives, produces a significant amount of fish waste, around 8-12 tons (8000-12000 kg) per day. This organic waste is just dump into the ocean near the fish market area..... read more
LOCAL DIVERS RAISE CONCERN ON WHALE SHARK RESEARCH PROGRAMME
Local divers have raised concerns about a whale shark research programme being conducted in the Maldives by a UK charity. The divers say tagging of whale sharks in a Marine Protected Area near Maamigili island in South Ari Atoll....
read more
CONTROVERSY OVER LONG-LINE FISHERY PLANS IN MALDIVES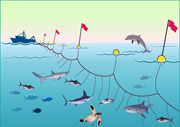 A controversial plan to permit long-line fishing in the Maldives has shocked environmentalists and concerned citizens. While the government tries to justify the plan saying it will increase the fish catch and provide a higher income for the fishermen.... read more