Maldives Nurses its Coral Reefs Back to Life
2 May 2004
By Alan Wheatley (Reuters)
VABBINFARU, Maldives (Reuters) - Scientists in the Maldives watched spellbound under the full moon as reproducing corals ejected pink-orange eggs and bundles of sperm -- proof the islands' endangered reefs are on the road to regeneration.
"That was the first time in the history of the Maldives that we had discovered coral spawning," said marine biologist Azeez Hakeem, who was among the watchers one special evening last year.
"It went into our hearts."
Six years after a spike in water temperatures bleached and killed two-thirds of the Maldives' precious coral reefs, nature is staging a comeback -- with a helping hand from man.
Researchers battling to save the reefs are using cone-shaped steel frames as nurseries for the corals, passing a small electric current through the metal to form a layer of limestone on which the brightly colored creatures can grow.
Nurturing the recovery of the corals is more than an economic imperative for the Maldives, which relies heavily on tourists lured by its reefs, white-sand beaches and azure-blue waters: without the protective barrier of the reefs, coastal erosion would ravage the 1,200 islands lying low in the Indian Ocean.
"If the reef is gone, we are gone. It's as simple as that," said Azeez.
That's why a spike in water temperatures in 1998 came as such a shock.
Until then, Maldivians never had to give much thought to their thriving reefs. For 300 years they even built their homes out of coral. Then global warming and the El Nino ocean current rammed home the fragility of the islands' existence.
The El Nino is caused by a change in the ocean-atmosphere system in the eastern Pacific that can trigger major weather shifts around the world. The 1998 El Nino abruptly raised temperatures in the seas around the Maldives' atolls by as much as five degrees Celsius.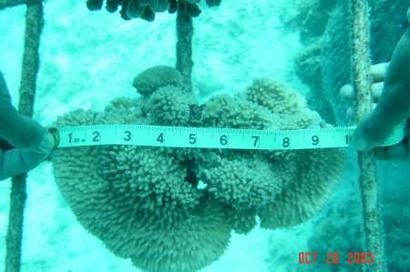 Six years after a spike in water temperature bleached and killed
two-thirds of the Maldives' precious coral reefs, nature is
staging a comeback
Stressed by the heat, the corals expelled the algae that provide as much as 60 percent of their food and give them such vivid colors. About 70 percent of the corals died, leaving them with a bleached look.
"Before 1998 we never thought that this reef could die. We had always taken for granted that these animals would be there, that this reef would be there forever," Azeez said.
"El Nino gave us a wake-up call that these things are not going to be there forever."
CORAL NURSERIES The electrified steel cones that Azeez's team is using to help regenerate the reefs are submerged in about 20 feet of water at Vabbinfaru in the northern Maldives.
Some baby corals latch naturally onto the structures, which are about 20 ft long by 12 ft high (6.5 m by 4 m). Others are attached by scientists and, once they have grown, are transplanted to colonize other areas of the reef.
"We can bring corals in and use it as a gene bank," said Dave Campion, a young British marine biologist working on the project. "Coral regeneration could prove vital in the preservation of the species that we have here."
Coral growth on the artificial reefs is up to five times faster than normal. But scientists are also surprised by how quickly the natural regeneration of the reefs is occurring.
Azeez says he was amazed on a trip last October to the southern Maldives to discover that perhaps 80 percent of the coral cover had already been restored.
Azeez was particularly encouraged by the fact that the corals that spawned had settled in the shallow waters of Vabbinfaru after 1998 and seemed to be more resistant to heat. "It gives us hope that the reef is coming back to life," he said.
MORE THAN A GIMMICK
The artificial reefs use a building technique developed by a German architect, Wolf Hilbertz, who teamed up in 1989 with Tom Goreau of the Global Coral Reef Alliance, a group based in the U.S. and devoted to protecting and sustaining reefs.
Goreau says the technique has proved its worth in almost 100 different projects in more than a dozen countries and is frustrated the technology is not used more widely.
"Hotels and governments basically regard them as merely cute gimmicks to entertain tourists with lots of bright fish and corals in places where there were hardly any, and they have failed to see them as essential tools for restoring damaged coral reefs and fisheries habitats," Goreau said by e-mail.
Banyan Tree Resorts, which funds a four-member marine science lab at its Vabbinfaru resort, says its research is not just meant to salve the green conscience of well-heeled guests.
"We must satisfy our customers, inspire our colleagues and improve the human and physical environment which we do business in. This is not just bleeding-heart liberalism; it's simple, enlightened self-interest," said group chairman Ho Kwon Ping.
Besides restoring coral, Banyan Tree's scientists are using satellite-tracking technology to keep tabs on the Maldives' sea-roving turtles and are trying to explain why there are plenty of baby black-tipped sharks around the resort but no adults.
For its part, the Maldives government rejects charges that it is not doing enough to protect itself from the consequences of global warming.
"The Maldives has been at the forefront of the global movement to act against man's actions that degrade the environment," said spokesman Ibrahim Waheed in the capital, Male.
Azeez acknowledges the constraints of money and trained staff but says more practical work is urgently needed to build on what he says are the encouraging results of coral research.
"My dream has been to see a few more labs established in different parts of the Maldives so we can study these creatures and understand them."

Original Story
http://story.news.yahoo.com/news?tmpl=story&cid=570&e=16&u=/nm/20040502/sc_nm/
environment_maldives_coral_dc_1