PROTECTED MARINE AREAS IN THE MALDIVES
Protected Marine Sites

The concentration of an increased population on some atolls and new developments, including tourism, has created a threat to marine environment. Activities such as sand and coral mining, waste disposal and fishing are degrading the fragile and vulnerable marine life.

The survey carried out by the Marine Research section of the Ministry of Fisheries and Agriculture in 1992 estimated that (US$) 2 million per annum was spent by divers to watch sharks. It also states that reef sharks are worth 100 times more alive as generators of diving revenue, than they are caught or dead in fishing boats. Therefore, they recommended protecting reef sharks within the tourism zone as it clearly sounded a positive economic case.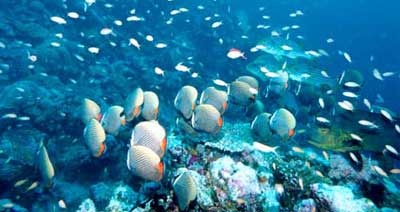 The Marine Research Section of MOFA selected 30 different sites with the help of diving schools across the tourism zone and made a proposal, which was discussed with other concerned government agencies, to finalise, protected areas. From the proposed sites, 15 sites were declared as protected marine areas in June 1995 under the Environment Act (4/93) and were registered under the name of the Ministry of Tourism in the Ministry of Planning, Human Resources and Environment.

As the importance of protected marine parks shows a common interest, the government declared more sites as protected marine areas in October 1999. Within these protected marine areas, the following activities are prohibited.
Anchoring (except in an emergency)
Coral and sand mining
Rubbish dumping
Removal of any natural object or living creatures
Fishing of any kind (e.g. for sharks reef fish or aquarium fish) with exception of traditional live bait fishing
Any other activity which may cause damage to the area or its associated marine life
Managing and Monitoring the Sites
Only less than one per cent of the world's oceans is protected from exploitation, and most of the area protected is not adequately managed. This is one of the core problems faced by the Maldives. Maldives has very little resources to dispense in monitoring the life in these protected areas. Since 1998 Marine Research Section of the Maldives has been conducting a monitoring scheme of some the reefs. In September 2003 Marine Research Section surveyed the reefs of Finey, Hirimaradhoo, and Hondaa islands of Haa Dhaalu atoll under the Marine Research Center's reef-surveying project. In these surveys information about the reefs condition and coral bleaching in general is collected according to the Centre.
A monitoring system could have immense benefit provided that the outcome of the surveys is published and necessary steps are taken to preserve and protect these designated marine areas. A stakeholder involvement approach is needed to get a better outcome and to do a better monitoring of these areas.

Marine protected areas offer a range of benefits for fisheries, local economy and the marine environment:
a safe haven for fish stocks to recover
alternative sources of income for local people
prevention of habitat damage
maintenance of biodiversity and much more.
Marine protected areas such as in the Maldives acts as an insurance policy for the future, both for marine life and the people who benefit and enjoy it.

References:
Haveeru Daily, Three reefs in the north surveyed, 03 September 2003
Niyaz, A, Tourism in the Maldives – a brief history of development, Maldives Tourism Promotion Board and Ministry of Tourism, 2002
WWF - Webesite WWF -Working to set up Marine Protected Areas http://www.panda.org/about_wwf/what_we_do/marine/what_we_do/
protected_areas/index.cfm