Reef Clean-up Project
This was a project launched on the first Environment Day of the new millennium, June 5, 2000. This project was continued till June 2002 jointly by Maldivers, Bluepeace and Studio One.

Reef Clean-up 2000

History and Position to Date
Reef Clean-up programs had been conducted as part of annual World Environment Day Programs as well as Clean-up Maldives program executed by the Government in 1998. These programs have given us the feeling of marine debris and the impact it has on the reef environment around Male'.
In the past, none of these programs have developed a sustained program whereby any part of the reef has been completely cleaned of the marine debris. The overwhelming amount of debris cover on the western face of Male' reef has reached an alarming scale. This has been one of the main reasons, which has led us to initiate a well developed clean up program.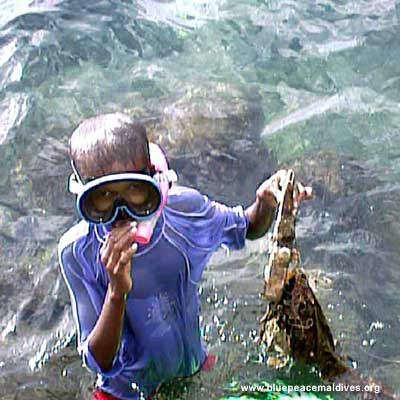 A young volunteer taking part in reef clean-up activity in 2000
PADI Project AWARE in collaboration with MALDIVERS and BLUEPEACE has carried out initial framework development of the Clean-up Program for 2000 among the concerned members of Maldivers, Bluepeace with Mr. Maizan Hassan Maniku, (Studio 1-Maldives) and following Program was detailed.
The Main reason for developing this program has been to carrying out a more organized long-term clean up within the context of the Mission Objectives of Project AWARE as well as to promote clean environment ethics within the habitants of Maldives.

MISSION
REEF CLEAN-UP program has it primary Mission to initiate a long term reef clean up program foe Male' Reef. However, its long term Mission is to incorporate an organized long term reef clean up program which will provide a reef clean up protocol and inform the public of the status of our reef around Male' island.

The long-term strategy will be to inform the public:
1. What is Marine debris?
2. Where does Marine debris come from?
3. What Trash Management Practices can reduced the Marine debris problem?
Objectives
The Main objectives of the Reef Clean-up program will be to:
1. Identify five clean up sites around the West End of Male' where the program will be carried out during the Year 2000.
2. Complete a full reef clean up pf one of the selected site an area of 60-200 meters length of a strip of the reef section from reef crest to 30 meters depth.
3. Conduct marine environment awareness program at the reef clean-up site on Environment Day 2000.
Lunching of "Reef Clean-up 2000" on 5 June 2000
Reef Clean-Up 2000 was launched on 5 June 2000, the first World Environment Day of the new millennium at 7 in the morning and finished at 5 in the evening. More than hundred members of Maldivers, Bluepeace, and Studio 1 actively participated in organizing and implementing the launching of Reef Clean-up 2000. Apart of from the organizers, Bodybuilding Federation of Maldives, Surfing Association and Club Eagles actively participated the lunching event.